Major Deegan Expressway, New York Thruway, Northway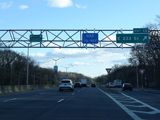 Welcome to the Bronx! The exit numbers start over again as the New York Thruway becomes the Major Deegan Expressway. Exit 13 is for East 233 Street.
Photo taken April 2022.
I-87 ends here at
I-278
. Bear left to go east on the Bruckner Expressway. Bear right to go west, crossing the RFK Bridge to Manhattan and Queens.
Photos taken April 2022.
---