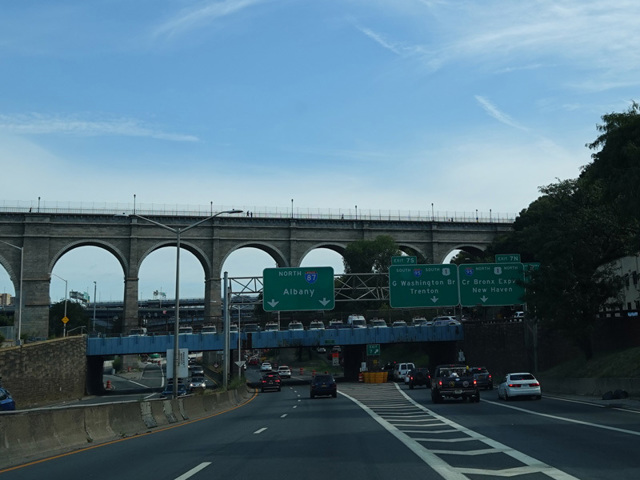 ---
Direction:

North/South

Southern Terminus:

Bruckner Expressway (I-278) in the Bronx

Northern Terminus:

United States-Canada border

Distance:

330.50 miles

Counties:

Bronx, Westchester, Rockland, Orange, Ulster, Greene, Albany, Saratoga, Warren, Clinton, Essex

Signed:

Yes
I-87 is a major north/south route in eastern New York. It begins at the Bruckner Expressway (I-278) in the Bronx, just north of the RFK Bridge. It runs north along the east side of the Harlem River as the Major Deegan Expressway. At the Bronx-Westchester county line, I-87 becomes the New York Thruway, New York's main toll highway and the longest toll highway in the country. The Thruway runs north through Westchester. In Elmsford, it curves to the west and merges with the Cross Westchester Expressway (I-287). The Thruway runs to the west, crossing the Hudson River on the Tappan Zee Bridge as I-87/I-287. In Suffern, I-287 leaves the Thruway and runs south into New Jersey. The Thruway continues north on the west side of the Hudson River to Albany. At exit 24 in Albany, the Thruway curves to the west and becomes I-90. I-87 leaves the Thruway and becomes the Northway. The Northway runs north through the Adirondack Mountains to the Canadian border. Unlike the Thruway, the Northway has no tolls.
Note that each of the three highways that make up I-87 has its own set of exit numbers. Therefore, I-87 goes through no less than three different sets of exits with the same numbers. The exit numbers reset at the Bronx-Westchester county line and then again at exit 24 of the Thruway in Albany.
Photo Gallery
Exit List
Map
---
Copyright © 2003-2022 by David Golub. All rights reserved. The author would like to thank William Roll for contributing photographs and LC for contributing documents to this web site. You may not reproduce any text or photographs on this web site without express permission from the author. Hotlinking of images from this site is strictly prohibited. Route symbols based on graphics from Central PA/MD Roads and Wikipedia. Map icons by MapGlyphs.com.