Oriskany Street East, East-West Arterial Highway, Dutchtown Road, Canal Street, Hancock Street, Erie Boulevard, West Main Street, East Main Street, Prospect Street, Church Street, Main Street, River Road
NY 5S runs west through Mohawk along the Erie Canal as a two-lane undivided road.
Photos taken May 2015.
The arterial peters out, and NY 5S turns into Oriskany Street East, a six-lane divided boulevard with traffic lights.
Photos taken May 2015.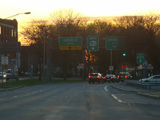 There is a traffic light at Genesee Street. Turn right to go north or left to go south.
Photo taken May 2015.
---