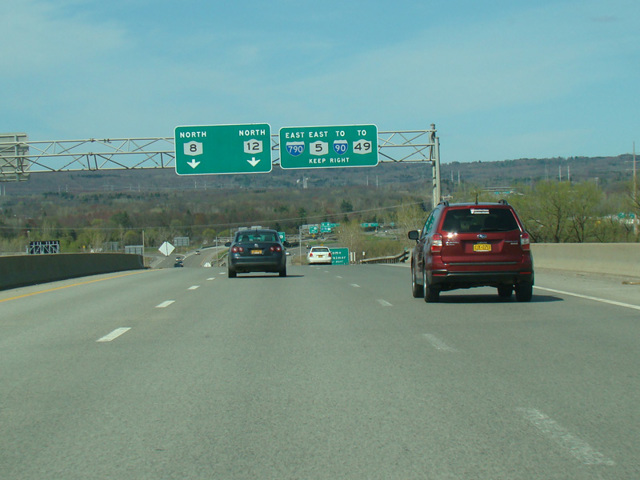 ---
Direction:

East/West

Western Terminus:

North-South Arterial Highway (NY 5/NY 8/NY 12), Oriskany Street West (NY 5A), and Oriskany Street East (NY 5S) in Utica

Eastern Terminus:

Leland Avenue (NY 5) in Utica

Distance:

2.06 miles

Counties:

Oneida

Signed:

Yes
I-790 is a short interstate in Utica that is multiplexed with NY 5 for its entire length. It begins at the point where the North-South Arterial Highway (NY 5/NY 8/NY 12) becomes a freeway. I-790 follows the freeway for one exit to the point where NY 5 splits off from NY 8/NY 12. It follows NY 5 along a pair of roadway along the side of the New York Thruway (I-90) that serve as its service roads. These roadways end at Leland Avenue, where NY 5 turns north and I-790 ends.
I-790 is perhaps one of the most pointless signed interstate designations in use, more likely to confuse motorists than to help them to navigate effectively. It is redundant with NY 5 and ends almost as abruptly as it begins. Also, there is no direct access to I-790 from I-90. Despite exit 31 of the Thruway being signed for I-790, motorists must use Genesee Street to make the connection.
---
Copyright © 2003-2022 by David Golub. All rights reserved. The author would like to thank William Roll for contributing photographs and LC for contributing documents to this web site. You may not reproduce any text or photographs on this web site without express permission from the author. Hotlinking of images from this site is strictly prohibited. Route symbols based on graphics from Central PA/MD Roads and Wikipedia. Map icons by MapGlyphs.com.