Corridor H, West Main Street, East Main Street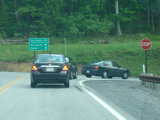 The turnoff for Old Route 55 and McCauley Road leads to this short roadway, which ends at a stop sign at Old Route 55.
Photo taken May 2016.
The turnoff for
Laurel Dale Road (WV 93)
leads to this roadway, which extends about half a mile down the mountain at a very steep grade to end at a stop sign. Turn right to go east or left to go west.
Photos taken May 2016.
---