West Lake Road, East Lake Road, Lake Shore Drive West, Lake Shore Drive East, Lake Road, Howard Street, Main Road, Erie Road, Lakeshore Road, Hamburg Turnpike, Buffalo Skyway, Church Street, South Division Street, Ellicott Street, Pearl Street, Main Street, Caledonia-Leroy Road, State Street, Caledonia Avon Road, East Avon Road, East Avon Lima Road, Buffalo Road, Hamilton Street, Waterloo Geneva Road, Lake Front Drive, Fall Street, Cayuga Street, Auburn Road, Clark Street Road, Grant Avenue, West Main Street, East Main Street, West Genesee Turnpike, West Genesee Street, Erie Boulevard East, East Genesee Street, Genesee Turnpike, Genesee Street, Seneca Turnpike, Seneca Avenue, North-South Arterial Highway, Leland Avenue, Herkimer Road, West State Street, East State Street, Mohawk Turnpike, West Grand Street, East Grand Street, Cranes Hollow Road, Amsterdam Road, Mohawk Avenue, Western Gateway Bridge, Central Avenue, Washington Avenue, Broadway
There is a traffic light at Fort Johnson Avenue (NY 67). Turn left to go west. Eastbound NY 67 is multiplexed with NY 5 straight ahead.
Photos taken August 2022.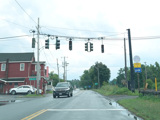 There is a traffic light at Evelyn Street. Turn right here for Erie Canal Lock 11.
Photo taken August 2022.
NY 5 widens to become a four-lane divided highway. Gardiner Street, Clinton Street, and Pine Street begin on the left. All three provide access to West Main Street.
Photos taken August 2022.
The eastbound side of NY 5 becomes a one-way expressway for a short distance here in Amsterdam. There is an exit on the left for the downtown area.
Photos taken August 2022.
Photos taken August 2022.
The expressway curves to the north and then ends at a stop sign at Main Street. Turn right to continue east on NY 5 or left to head back west.
Photos taken August 2022.
---