Weaver Street, Palmer Avenue, Secor Road, Old Mamaroneck Road, Mamaroneck Avenue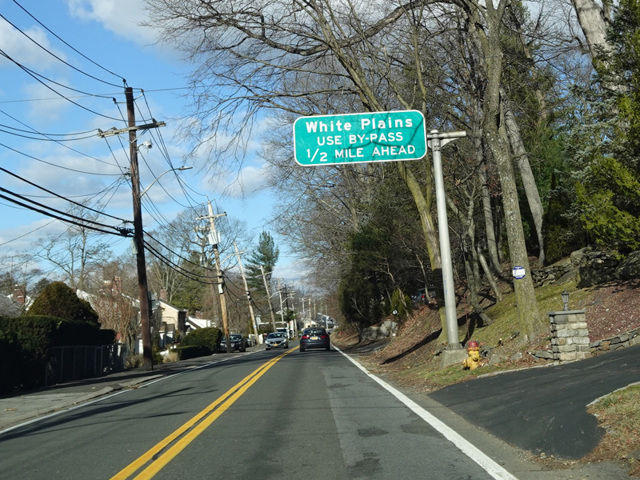 ---
Direction:

North/South

Southern Terminus:

Boston Post Road (US 1) in Larchmont

Northern Terminus:

East Post Road (NY 22) in White Plains

Distance:

7.50 miles

Counties:

Westchester

Signed:

Yes
NY 125 is a north/south route in Westchester County extending from Larchmont to White Plains. The southernmost section is known as Weaver Street. It most likely derives its name from the fact that it is very curvy and hence weaves back and forth. It begins at Boston Post Road (US 1) and crosses the New England Thruway (I-95) with no interchange. Further north, there is an interchange with the Hutchinson Parkway.
In Scarsdale, the Heathcote Bypass (CR 143) is a loop that bypasses about a mile of NY 125. There are a couple of signs marking it as Bypass NY 125 on the northbound side of Weaver Street, but it is otherwise unsigned. A short distance after the split, Weaver Street ends, and NY 125 turns onto Palmer Avenue, which runs to the northeast and then curves to the north. At the other end of the Heathcote Bypass (CR 143), Palmer Avenue becomes Secor Road.
In White Plains, Secor Road changes names to become Old Mamaroneck Road. It runs north for a couple of miles before merging with Mamaroneck Avenue. NY 125 follows Mamaroneck Avenue for a few blocks to East Post Road (NY 22). At this intersection, NY 125 ends, but Mamaroneck Avenue continues to Main Street (NY 119) as a local street.
---