New Jersey Turnpike, George Washington Bridge
Northbound Lower Level Views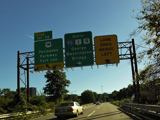 Photo taken October 2018.
Photos taken October 2018.
There is a toll barrier. All motorists must pay a toll before crossing the George Washington Bridge.
Photos taken October 2018.
On the approach to the bridge, there is advance signage for the first few exits in New York.
Photos taken 2018–2021.
The George Washington Bridge crosses the Hudson River into New York. The first exit on the other side, which is actually exit 1A but is signed as exit 1 due to an aborted exit renumbering attempt, is for the
Henry Hudson Parkway (NY 9A)
and
West 178 Street (US 9)
.
Photos taken April 2021.
---