West Putnam Avenue, East Putnam Avenue, West Main Street, Tresser Boulevard, East Main Street, Post Road, Connecticut Avenue, Van Buren Avenue, Belden Avenue, Cross Street, North Avenue, Westport Avenue, Post Road West, Post Road East, Kings Highway, Boston Avenue, Barnum Avenue, Bridgeport Avenue, Boston Post Road, Orange Avenue, Columbus Avenue, Church Street South, Union Avenue, Water Street, Forbes Avenue, Saltonstall Parkway, North Main Street, Halls Road, Bank Street, Jefferson Avenue, Colman Street, South Frontage Road, Long Hill Road, Poquonnock Road, Fort Hill Road, New London Road, Broadway, Roosevelt Street, Williams Avenue, Stonington Road, South Broad Street, West Broad Street
Skipping a substantial distance, Union Avenue runs south through New Haven. There are traffic lights at Meadow Street and Columbus Avenue. Union Station, New Haven's major train station, is to the left.
Photos taken February 2012.
Skipping to the west, Boston Post Road runs west through West Haven to Orange as a four-lane undivided road.
Photos taken August 2008.
Photos taken August 2008.
Boston Post Road continues west through Orange. It intersects Racebrook Road (CT 114) along this stretch.
Photos taken August 2008.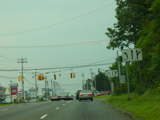 In Milford, Boston Post Road widens to become a four-lane divided road. The Connecticut Post Mall is on the left here.
Photos taken October 2008.
Photos taken September 2009.
The
Milford Parkway (SR 796)
begins on the right. This is the only signage that references the Milford Parkway by name. The signs on I-95 and CT 15 refer only to the other highways that are accessed through it.
Photos taken August 2009.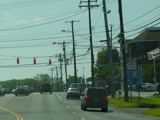 Boston Post Road continues for a short distance and then merges into Bridgeport Avenue and ends. Continue straight ahead to stay on US 1. Make a sharp left turn to go east on
CT 162
, which begins here.
Photos taken August 2009.
South to Fairfield County
---