Broad Street, Hartford Turnpike, Hartford-New London Turnpike, New London Road, South Main Street, Main Street, Broadway, Church Street, North Street, West Street, Clark Road, Bolton Center Road
Welcome to Colchester! The speed limit rises to 50 MPH just before the town line.
Photos taken July 2016.
The speed limit goes back down to 40 MPH. There is a stop sign and flasher at Lake Hayward Road (SR 637).
Photos taken July 2016.
CT 85 passes under the
CT 2
expressway. There is an entrance to get on going north on the left after the overpasses.
Photos taken July 2016.
Parum Road (CT 354) merges in from the right at a stop sign. Continue straight ahead to stay on CT 85. There is no route signage at this intersection.
Photos taken July 2016.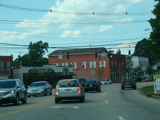 ---