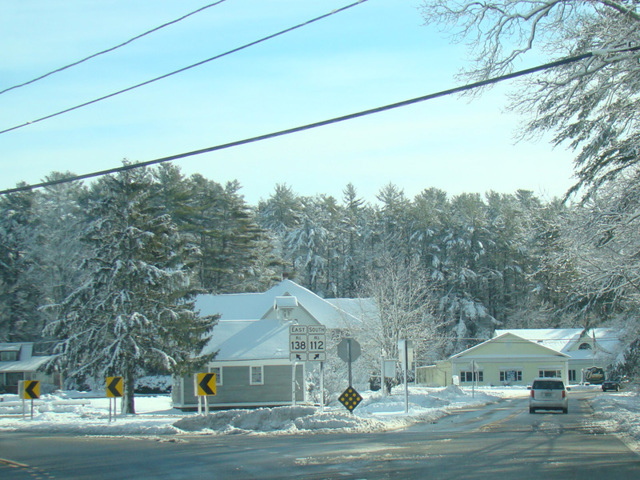 ---
Direction:

East/West from Connecticut to Middletown, North/South from Middletown to Massachusetts

Western Terminus:

Connecticut-Rhode Island state line

Eastern Terminus:

Rhode Island-Massachusetts state line

Counties:

Washington, Newport

Signed:

Yes
RI 138 is a route through the southern area of Rhode Island. CT 138 becomes RI 138 at the state line. The first section, known as Spring Street, runs southeast for a couple of miles to Nooseneck Hill Road (RI 3), where it ends. RI 138 is multiplexed with RI 3 for a few blocks to the northeast and then splits off to the east to become Main Street. After another few blocks, there is an interchange with I-95, where Main Street changes names to become Kingstown Road, which continues east to Kingston near the University of Rhode Island. (No, this is not a typo. There's Kingstown and Kingston.) There, Kingstown Road turns south to become RI 108, which RI 138 continues east along Mooresfield Road.
Mooresfield Road ends after another couple of miles at US 1. RI 138 is multiplexed with US 1 north for a little over a mile. Then, it splits off to the east again and becomes an expressway. It crosses two bridges, the Jamestown Bridge and the Newport Bridge, to Middletown, which is located on Rhode Island, the island in the middle of Narragansett Bay from which the state takes its name. There, the expressway ends. RI 138 follows Admiral Kalbfus Road, West Main Road, and East Main Road through Middletown, changing direction to become a north/south route from this point on. It continues north to Portsmouth, where East Main Road ends at RI 24. The two routes are multiplexed across the Sakonnet River Bridge to Tiverton, where RI 138 splits off to the north along Main Road. After a little over a mile, it crosses into Massachusetts and becomes MA 138.
---
Copyright © 2003-2021 by David Golub. All rights reserved. The author would like to thank William Roll for contributing photographs and LC for contributing documents to this web site. You may not reproduce any text or photographs on this web site without express permission from the author. Hotlinking of images from this site is strictly prohibited. Route symbols based on graphics from Central PA/MD Roads and Wikipedia. Map icons by MapGlyphs.com.