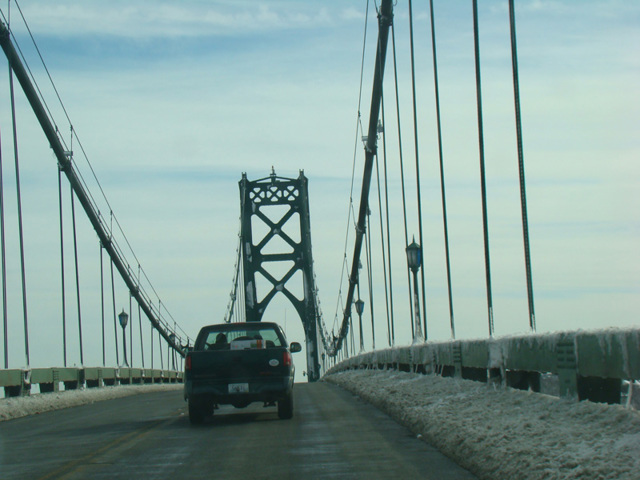 ---
Direction:

North/South

Southern Terminus:

West Main Road (RI 138) and East Main Road (RI 138) in Middletown

Northern Terminus:

Social Street (RI 126) in Woonsocket

Counties:

Newport, Bristol, Providence

Signed:

Yes
RI 114 is a major north/south route through Rhode Island, the island from which the state takes its name. It begins at RI 138 in Middletown, just north of Newport, and runs north to Portsmouth. From there, it crosses the Mount Hope Bridge, a two-lane suspension bridge, to Bristol. In Bristol, RI 114 has a distinctive red, white, and blue line down the middle instead of the standard double yellow line to mark the route of the first Independence Day Parade in 1777. RI 114 then follows County Road through Warren and Barrington before widening to become Wampanoag Trail, a four-lane divided highway where exits are on one side and accessed from the other direction using turnarounds, similar to what exists on US 1 in Rhode Island.
In Riverside, Wampanoag Trail splits off to become a two-lane road, taking RI 114 with it, while the road straight ahead becomes the East Shore Expressway, a short expressway connecting to the East Providence Expressway (I-195). Wampanoag Trail ends at Pawtucket Avenue, which RI 114 follows north through East Providence, Pawtucket, and Central Falls. In Cumberland, it turns east for two blocks onto Dexter Street and then north again onto High Street. It follows High Street, which eventually changes names to become Diamond Hill Road, and then turns west onto Pine Swamp Road. It ends at Social Street (RI 126) in Woonsocket, just south of the border with Massachusetts.
---
Copyright © 2003-2021 by David Golub. All rights reserved. The author would like to thank William Roll for contributing photographs and LC for contributing documents to this web site. You may not reproduce any text or photographs on this web site without express permission from the author. Hotlinking of images from this site is strictly prohibited. Route symbols based on graphics from Central PA/MD Roads and Wikipedia. Map icons by MapGlyphs.com.