Molly Pitcher Highway, South Antrim Way, North Antrim Way, South Main Street, South Second Street, Philadelphia Avenue, Edgar Avenue, West King Street, East King Street, Ritner Highway, West High Street, North Hanover Street, Harrisburg Pike, Carlisle Pike, North 32nd Street, Cumberland Boulevard, Camp Hill Bypass, Walnut Street, North Front Street, South Enola Road, North Enola Road, South State Road, State Road, Susquehanna Trail, Selinsgrove Bypass, Water Street, Front Street, Point Township Drive, Northumberland Street, Montour Boulevard, West Main Street, East Street, Columbia Boulevard, West Front Street, East Front Street, Salem Boulevard, North Main Street, Chestnut Street, East Poplar Street, East Main Street, Wyoming Avenue, Fort Jenkins Bridge, Kennedy Boulevard, William Street, South Township Boulevard, Pittston Bypass, Pittston Avenue, Main Street, Birney Avenue, Sanders Street, Cedar Avenue, Jefferson Avenue, Mulberry Street, North Scranton Expressway, Northern Boulevard, State Street, Lackawanna Trail
These pictures show the Fort Jenkins Bridge as observed from a pedestrian path along the Susquehanna River.
Photos taken March 2015.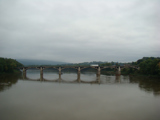 This picture shows the Fort Jenkins Bridge as observed from the Water Street Bridge.
Photo taken October 2018.
These pictures were taken from the pedestrian walkway on the Fort Jenkins Bridge. The Water Street Bridge is visible to the south.
Photos taken October 2018.
These pictures show the Tunkhannock Viaduct as observed from the scenic overlook along US 11.
Photos taken 2015–2018.
---