Providence Road, Palmers Mill Road, Newtown Street Road, Darby Paoli Road, Leopard Road, Bear Hill Road, Swedesford Road, Valley Forge Road, Valley Creek Road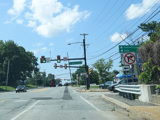 Providence Road runs north as a four-lane undivided road. There are traffic lights at Rose Tree Road and Park Place.
Photos taken July 2023.
Providence Road splits off to the left at a traffic light. Continue straight ahead onto Palmers Mill Road to stay on PA 252.
Photos taken July 2023.
---