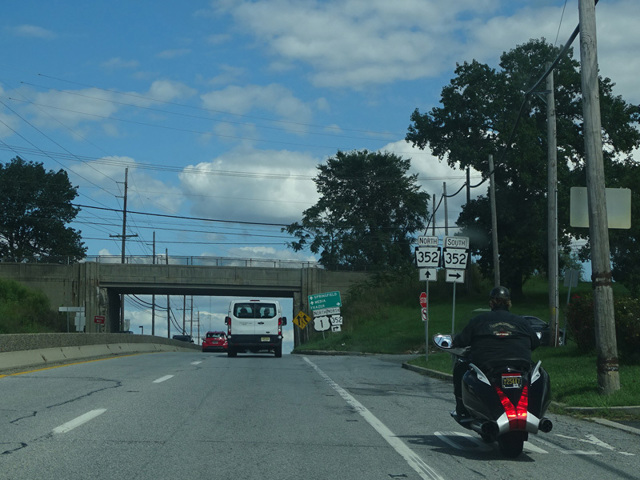 ---
Direction:

North/South

Southern Terminus:

Maryland-Pennsylvania state line

Northern Terminus:

Pennsylvania-New Jersey state line

Distance:

79.69 miles

Counties:

Chester, Delaware, Philadelphia, Bucks

Signed:

Yes
US 1 is a major route running from Key West in Florida to the Canadian border in Maine. Prior to the construction of I-95, it was the main route along the East Coast. It enters Pennsylvania from Maryland just south of Oxford. After a short distance, it becomes an expressway called the Kennett-Oxford Bypass, which, as its suggests, runs northeast to Kennett. There, the expressway ends and US 1 is routed along Baltimore Pike, which is a local street south of this point. In Media, US 1 leaves Baltimore Pike to become another expressway called the Media Bypass. After a short distance, the expressway ends. As US 1 continues northeast toward Philadelphia, it is changes names several times to become South State Road, North State Road, Township Line Road, and City Avenue.
In Philadelphia, City Avenue has an interchange with the Schuylkill Expressway (I-76). US 1 is multiplexed with I-76 east for one exit and then splits off to become the Roosevelt Expressway, which runs northeast for a little over a mile before merging with West Hunting Park Avenue (US 13) to become Roosevelt Boulevard, a large divided boulevard with service roads. US 1 follows Roosevelt Boulevard out of Philadelphia to Bensalem, where it has an interchange with the Pennsylvania Turnpike (I-276) and becomes an expressway again. It continues northeast through the Philadelphia suburbs, eventually crossing the Delaware River to Trenton, New Jersey.
---
Copyright © 2003-2021 by David Golub. All rights reserved. The author would like to thank William Roll for contributing photographs and LC for contributing documents to this web site. You may not reproduce any text or photographs on this web site without express permission from the author. Hotlinking of images from this site is strictly prohibited. Route symbols based on graphics from Central PA/MD Roads and Wikipedia. Map icons by MapGlyphs.com.