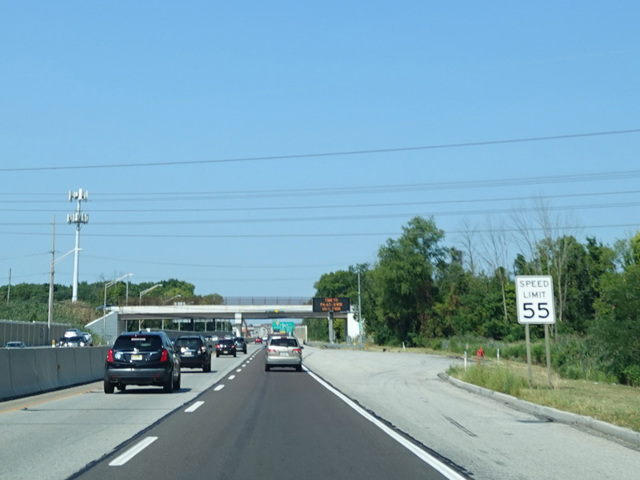 ---
Direction:

North/South

Southern Terminus:

Delaware-Pennsylvania state line

Northern Terminus:

New Jersey-Pennsylvania state line

Counties:

Delaware, Philadelphia, Bucks

Signed:

Yes
I-95 is a main interstate that runs along the east coast from Florida to Maine. The section in Pennsylvania is called the Delaware Expressway because it runs along the Delaware River. Most of the Delaware Expressway is in Philadelphia. In Bristol, I-95 leaves the Delaware Expressway and turns east onto the Pennsylvania Turnpike, which is designated I-276 west of this point, and follows it across the Delaware River to New Jersey. The Delaware Expressway continues north as I-295.
Until 2018, there was no interchange between the Delaware Expressway and the Pennsylvania Turnpike. Prior to the opening of the interchange that exists today, I-95 continued north along the entire length of the Delaware Expressway and into New Jersey, where it became the Camden Freeway (I-295) at its interchange with Brunswick Pike (US 1). The Pennsylvania Turnpike carried the I-276 designation all the way to the border with New Jersey, where it became an extension of the New Jersey Turnpike (I-95).
---
Copyright © 2003-2021 by David Golub. All rights reserved. The author would like to thank William Roll for contributing photographs and LC for contributing documents to this web site. You may not reproduce any text or photographs on this web site without express permission from the author. Hotlinking of images from this site is strictly prohibited. Route symbols based on graphics from Central PA/MD Roads and Wikipedia. Map icons by MapGlyphs.com.