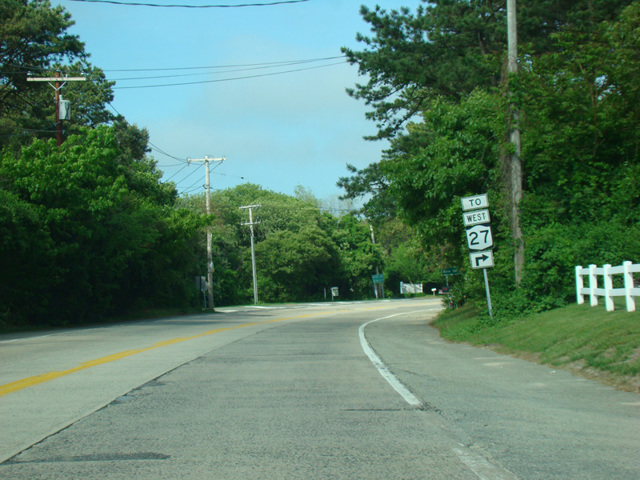 ---
Direction:

East/West

Western Terminus:

Montauk Highway (CR 80) in Shinnecock Hills

Eastern Terminus:

Flying Point Road (NY 27/CR 39A) in Southampton

Distance:

6.93 miles

Signed:

Yes
North Road is a major east/west route on the South Fork of Long Island. It is multiplexed with NY 27 for most of its length, carrying most traffic to and from the Hamptons. There is a short section west of the multiplex in Shinnecock Hills that is a two-lane road. Originally, Sunrise Highway (NY 27) merged with North Road at its eastern terminus, where the multiplex began. However, as part of a 2008 construction project to widen the section of North Road that is multiplexed with NY 27 to four lanes, the merge was eliminated in order to ease the traffic flow on NY 27, making CR 39 no longer contiguous for eastbound traffic. Motorists travelling east on North Road are forced to turn around when they reach the eastern terminus of Sunrise Highway. In order to access the portion of North Road east of this point, it is necessary to use Sunrise Highway. Motorists travelling west on North Road can still choose to either get on Sunrise Highway or continue on North Road.
At its eastern terminus, North Road changes names to become Flying Point Road and changes numbers to become CR 39A. NY 27 continues, multiplexed with CR 39A, along Flying Point Road.
---
Copyright © 2003-2021 by David Golub. All rights reserved. The author would like to thank William Roll for contributing photographs and LC for contributing documents to this web site. You may not reproduce any text or photographs on this web site without express permission from the author. Hotlinking of images from this site is strictly prohibited. Route symbols based on graphics from Central PA/MD Roads and Wikipedia. Map icons by MapGlyphs.com.