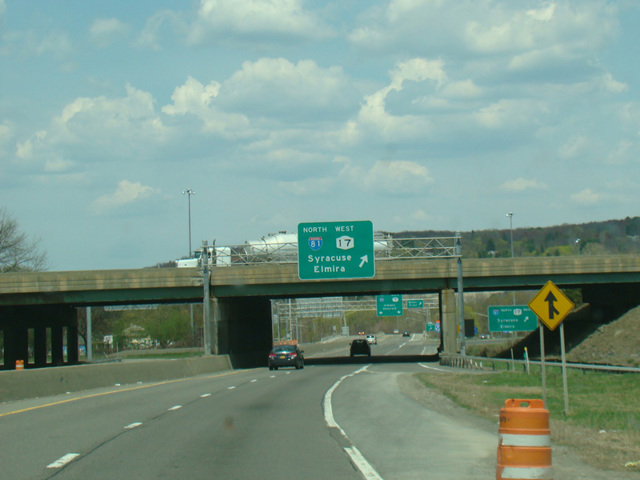 ---
Direction:

North/South from Pennsylvania to Binghamton, East/West from Binghamton to Vermont

Southern Terminus:

Snake Creek Road (PA 29) at the Pennsylvania-New York state line

Eastern Terminus:

VT 9 at the New York-Vermont state line

Distance:

180.30 miles

Counties:

Broome, Chenango, Otsego, Schoharie, Schenectady, Albany, Rensselaer

Signed:

Yes
NY 7 is a diagonal route running through New York from Pennsylvania to Vermont. PA 29 turns into NY 7 at the state line. NY 7 runs parallel to I-81 and US 11 for its first few miles, gradually curving to the west until Binghamton, where it turns to the north again. After a short distance, it merges into the Brandywine Highway, a short expressway in Binghamton that is designated NY 363 south of the merge. There is an interchange with I-81/NY 17/Future I-86. Just north of it, NY 7 changes from being signed as a north/south route to being signed as an east/west route. The Brandywine Highway ends at exit 1 of I-88. NY 7 is multiplexed with I-88 to exit 4 and then is routed along the local streets parallel to it for its entire length.
Eventually, I-88 ends at exit 25A the New York Thruway (I-90). NY 7 continues, following Curry Road through Rotterdam to I-890. It is routed along I-890 for a couple of exits and then splits off to become a large divided highway called the Crosstown, which runs through Schenectady to Niskayuna, where it merges with Union Street to become Troy-Schenectady Road. In Latham, there is an interchange with the Northway (I-87). Troy-Schenectady Road becomes NY 2, while NY 7 turns north and is multiplexed with I-87 along the Northway. After one exit, it splits off to become a short expressway that extends east for a couple of miles before crossing the Hudson River on the Collar City Bridge to Troy. On the other side of the river, the expressway ends, and NY 7 follows Hoosick Street through Troy. It continues east to the Vermont border, where it becomes VT 9.
---
Copyright © 2003-2022 by David Golub. All rights reserved. The author would like to thank William Roll for contributing photographs and LC for contributing documents to this web site. You may not reproduce any text or photographs on this web site without express permission from the author. Hotlinking of images from this site is strictly prohibited. Route symbols based on graphics from Central PA/MD Roads and Wikipedia. Map icons by MapGlyphs.com.