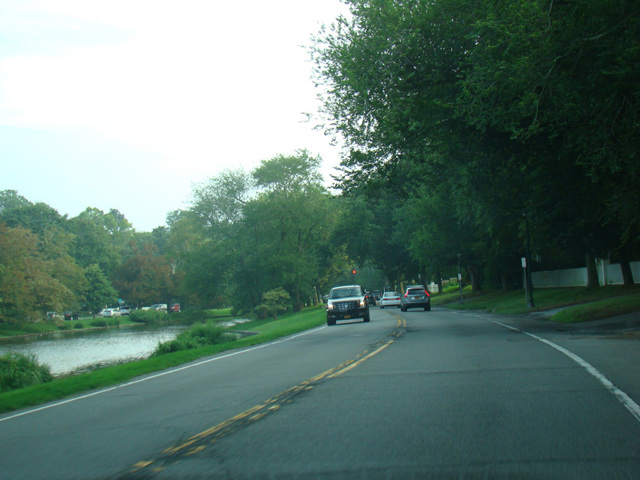 ---
Direction:

East/West

Western Terminus:

Brooklyn-Queens Expressway (I-278) in Brooklyn

Eastern Terminus:

Montauk Point Lighthouse

Distance:

122.28 miles

Counties:

Kings, Queens, Nassau, Suffolk

Signed:

Yes
The first section of NY 27 is the Prospect Expressway, a very short expressway that begins at the Brooklyn-Queens Expressway (I-278) and runs to the southeast for a few miles. The Prospect Expressway ends at Church Avenue and Ocean Parkway, and NY 27 turns east onto Church Avenue, north onto Coney Island Avenue, and then east again onto Caton Avenue. However, left turns at the end of the Prospect Expressway are prohibited, so motorists following NY 27 east must exit the expressway at exit 5 and follow East 5 Street to Caton Avenue. To further complicate matters, trucks are not permitted along this route and must instead take exit 4 and follow 10 Avenue and McDonald Avenue to Church Avenue.
Just east of Flatbush Avenue, Caton Avenue merges into Linden Boulevard, which extends through Brooklyn as a six-lane divided boulevard with service roads. Just after crossing the border into Queens, Linden Boulevard merges into North Conduit Avenue and South Conduit Avenue, which were built to be part of Robert Moses's Cross Brooklyn Expressway (I-878), which was never constructed. After a short distance, North Conduit Avenue and South Conduit Avenue become the service roads of the Belt Parkway.
Just west of the Queens-Nassau county line, North Conduit Avenue and South Conduit Avenue leave the Belt Parkway and come together to form Sunrise Highway. Sunrise Highway is a large divided road with traffic lights. It runs along the south shore, parallel to Merrick Road, through all of Nassau and the western part of Suffolk. In West Babylon, Sunrise Highway becomes an expressway. Sunrise Highway the expressway runs along the south shore until the beginning of the South Fork. In Shinnecock Hills, Sunrise Highway ends and NY 27 is multiplexed with North Road (CR 39). NY 27 is multiplexed with North Road (CR 39) and Flying Point Road (CR 39A) through Southampton, until the end of CR 39A at Montauk Highway. Montauk Highway is a two-lane road with traffic lights. NY 27 is routed along Montauk Highway from CR 39A to Montauk Point, the easternmost point on Long Island. It ends at the Montauk Point Lighthouse. Over 120 miles long, NY 27 is the longest route on Long Island.
Photo Gallery
Exit List
Map
---
Copyright © 2003-2022 by David Golub. All rights reserved. The author would like to thank William Roll for contributing photographs and LC for contributing documents to this web site. You may not reproduce any text or photographs on this web site without express permission from the author. Hotlinking of images from this site is strictly prohibited. Route symbols based on graphics from Central PA/MD Roads and Wikipedia. Map icons by MapGlyphs.com.