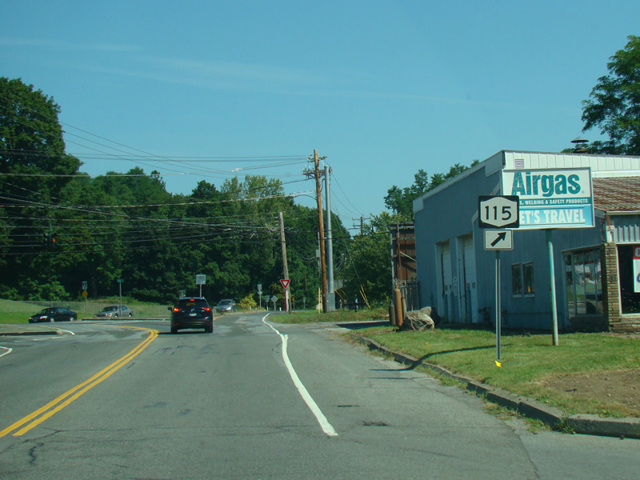 ---
Direction:

North/South

Southern Terminus:

Baker Street (US 44/NY 55) in Poughkeepsie

Northern Terminus:

Taconic Parkway and Salt Point Turnpike (Dutchess CR 17) in Clinton Corners

Distance:

12.45 miles

Counties:

Dutchess

Signed:

Yes
NY 115 is a north/south route from Poughkeepsie to Clinton Corners. It begins at Baker Street (US 44/NY 55) and follows Worrall Avenue north to the city line, where it becomes Innis Avenue (CR 75). Innis Avenue ends after a little less than a mile at Salt Point Turnpike. NY 115 turns northeast onto Salt Point Turnpike. It follows Salt Point Turnpike to the Taconic Parkway, where NY 115 ends. Salt Point Turnpike continues beyond the parkway as CR 17.
The NY 115 designation in Dutchess County is relatively recent. Until 1972, Wantagh Avenue (Nassau CR 189) on Long Island was designated NY 115. At that time, Dutchess CR 17 extended south along Salt Point Turnpike to the Poughkeepsie city line.
---
Copyright © 2003-2022 by David Golub. All rights reserved. The author would like to thank William Roll for contributing photographs and LC for contributing documents to this web site. You may not reproduce any text or photographs on this web site without express permission from the author. Hotlinking of images from this site is strictly prohibited. Route symbols based on graphics from Central PA/MD Roads and Wikipedia. Map icons by MapGlyphs.com.