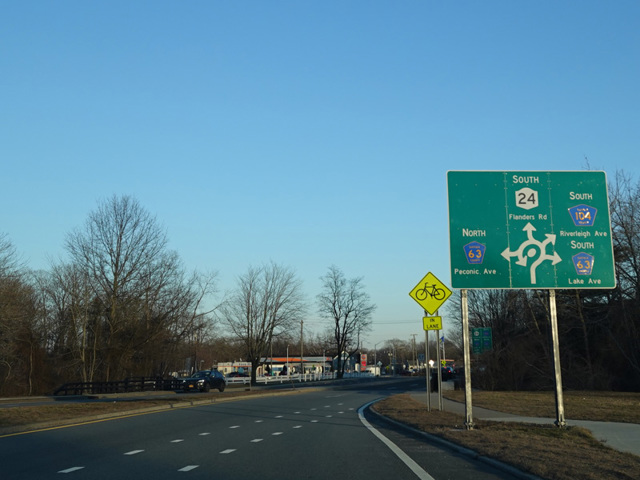 ---
Direction:

North/South

Northern Terminus:

Long Island Expressway (I-495) in Calverton

Southern Terminus:

Montauk Highway (CR 80) in Hampton Bays

Distance:

12.05 miles

Counties:

Suffolk

Signed:

Yes
NY 24 begins at the Long Island Expressway (I-495) nears its eastern terminus. The first section is Nugent Drive, a four-lane divided highway running east to the south of the Peconic River. It is maintained by the county and is also designated CR 94. Continuing to the east, Nugent Drive changes names to become Center Drive. At the end of Center Drive, there is a major traffic circle. CR 94 ends at this point. NY 24 becomes a two-lane undivided road and curves to the southeast. It is known as Flanders Road and then changes names to become Riverhead-Hampton Bays Road. Near the southern terminus in Hampton Bays, it widens to four lanes again. There is a cloverleaf interchange with Sunrise Highway (NY 27). Immediately thereafter, NY 24 ends at Montauk Highway (CR 80).
There is another route further west that is also designated NY 24, following Hempstead Turnpike and extending from Hillside Avenue (NY 25) in Queens to Broad Hollow Road (NY 110) in Farmingdale. The two routes used to connect before World War II, with NY 24 extending through Suffolk County from the current eastern terminus of the western section to the traffic circle on the eastern section. CR 94 had not yet been built at the time. NY 24 followed roads such as Long Island Avenue, Pine Aire Drive, Suffolk Avenue (CR 100), Johnson Avenue, and Union Avenue, which are now no longer part of the state route system. The original, contiguous NY 24 was an east/west route. Presently, the western section is an east/west route while the eastern section is a north/south route.
---
Copyright © 2003-2022 by David Golub. All rights reserved. The author would like to thank William Roll for contributing photographs and LC for contributing documents to this web site. You may not reproduce any text or photographs on this web site without express permission from the author. Hotlinking of images from this site is strictly prohibited. Route symbols based on graphics from Central PA/MD Roads and Wikipedia. Map icons by MapGlyphs.com.