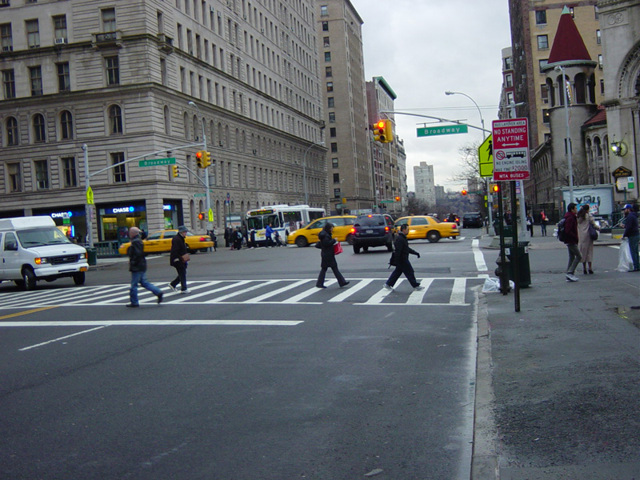 ---
Direction:

East/West

Western Terminus:

Henry Hudson Parkway (NY 9A) in Manhattan

Eastern Terminus:

FDR Drive in Manhattan

Counties:

New York
79 Street is a major east/west street in Manhattan, running through the Upper West Side and the Upper East Side. It crosses Central Park as a super-2 (two-lane undivided limited-access highway) known as a transverse road. The section west of the transverse road is known as West 79 Street, and the section east of the transverse road is known as East 79 Street. All of 79 Street except for the transverse road is a four-lane undivided street with traffic lights.
There is a one-block section of West 79 Street between Central Park West and Columbus Avenue that is missing due to the American Museum of Natural History, which extends from West 77 Street to West 81 Street. Therefore, the western end of the transverse road is aligned with West 81 Street, which is two-way for the block between Central Park West and Columbus Avenue. Oversized street name signage is provided along West 81 Street and Columbus Avenue to guide westbound motorists around the museum to the beginning of West 79 Street. Since Columbus Avenue is a southbound one-way street, eastbound motorists must use an alternate route to reach the transverse road. One possible way of doing this is to take Amsterdam Avenue north for two blocks and then turn east on West 81 Street. The M79 crosstown bus uses this route.
---
Copyright © 2003-2022 by David Golub. All rights reserved. The author would like to thank William Roll for contributing photographs and LC for contributing documents to this web site. You may not reproduce any text or photographs on this web site without express permission from the author. Hotlinking of images from this site is strictly prohibited. Route symbols based on graphics from Central PA/MD Roads and Wikipedia. Map icons by MapGlyphs.com.