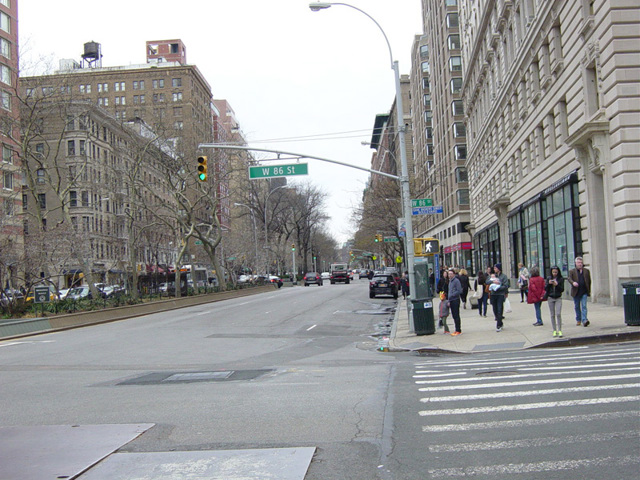 ---
Direction:

North/South

Southern Terminus:

Battery Place in Manhattan

Northern Terminus:

George Washington Bridge (I-95/US 1/US 9) in Manhattan

Distance:

10.70 miles

Counties:

New York
Broadway is the longest north/south road in Manhattan, extending from Battery Park all the way to the northern tip of the island and then through Riverdale in the Bronx into Westchester County. The northernmost few miles within New York City are designated US 9. Broadway enters the Bronx from Yonkers and runs south through Riverdale as a four-lane undivided road. At West 242 Street, the elevated subway tracks of the 1 train begin and run above Broadway. After a couple of miles, Broadway passes through Marble Hill, a neighborhood that is politically part of Manhattan but geographically connected to the Bronx. The Broadway Bridge carries Broadway across the Harlem River from Marble Hill into Manhattan proper.
Shortly after crossing into Manhattan, the subway tracks go underground. Just south of West 179 Street, Broadway crosses the Cross Bronx Expressway (I-95/US 1). Here, US 9 leaves Broadway to cross the George Washington Bridge (I-95/US 1/US 9) into New Jersey. Broadway continues south through Washington Heights and Harlem. At West 168 Street, it crosses St. Nicholas Avenue and becomes a divided highway. In the vicinity of West 125 Street, the subway tracks emerge from underground for a short distance, only to go back underground as Broadway enters Morningside Heights. The divided highway section continues south through Morningside Heights and the Upper West Side to end at Columbus Circle, a traffic circle with a monument to Christopher Columbus in the middle located at the southwest corner of Central Park where Broadway meets 8 Avenue, Central Park South, and Central Park West.
South of Columbus Circle, Broadway is a southbound one-way street. Prior to 2009, it was possible for motorists to follow Broadway southbound for its entire length. In that year, Mayor Michael Bloomberg had two sections of Broadway converted into pedestrian malls, one between West 42 Street and West 47 Street in the area of Times Square where Broadway crosses 7 Avenue, and one from West 33 Street to West 35 Street in the area of Herald Square where Broadway crosses 6 Avenue. Broadway is interrupted again for a few blocks at Union Square Park, requiring motorists to follow Union Square West and East 14 Street around the park to reach the section of Broadway south of it. Broadway continues south through the Chinatown and the Financial District to end at Battery Place and State Street near Battery Park.
---