A short connector extends from exit 1 of I-684 to the
Hutchinson Parkway
. There is an unnumbered exit for Manhattanville Road. Then, the connector narrows down to a single lane and merges into the parkway.
Photos taken August-September 2020.
The ramp for exit 5 when travelling south merges with an entrance ramp from
Woods Bridge Road (NY 35)
and then splits. Bear left for get on I-684. Bear right for the
Saw Mill Parkway
, which begins here. Take exit 43, the first exit from the parkway, for
NY 117
.
Photos taken July 2020.
Photos taken October 2019.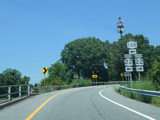 ---