Sylvan Lake Road
Sylvan Lake Road begins at
Beekman Road (CR 9)
in Hopewell Junction and runs north as a two-lane undivided road. Sylvan Lake is along the left side of the road.
Photos taken April 2017.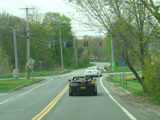 Sylvan Lake Road ends at a traffic light at
NY 82
. Turn right to go north or left to go south.
Photo taken April 2017.
---