Water Street, Lakehurst Road, Oak Ridge Parkway, Whitesville Road, East Veterans Highway, Cedar Swamp Road, Siloam Road, Smithburg Road, Sweetmans Lane, Millhurst Road, Conover Street, Park Avenue, Main Street, Wilson Avenue, Old Bridge-Englishtown Road, Old Matawan Road, Old Bridge Turnpike, George Street, Easton Avenue, Mountain Avenue, Morning Glory Road, Washington Valley Road, Mountain Boulevard, Valley Road, Glenside Avenue, Morris Avenue, Springfield Avenue, Millburn Avenue, Old Short Hills Road, East Cedar Street, Livingston Avenue, Eagle Rock Avenue, Roseland Avenue, Bloomfield Avenue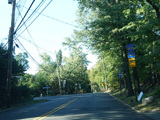 Skipping north to Millburn, Parsonage Hill Road (CR 606) begins on the left.
Photo taken October 2021.
Photos taken October 2021.
---