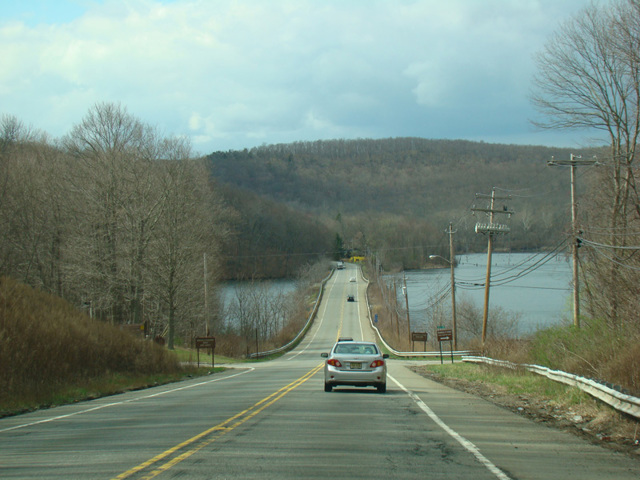 ---
Direction:

North/South

Southern Terminus:

Morris Street (CR 510) and Columbia Avenue (CR 510) in Morris

Northern Terminus:

Jersey Avenue (NY 210) at the New York-New Jersey state line

Distance:

37.44 miles

Counties:

Morris, Passaic

Signed:

Yes
CR 511 is a north/south route extending from Morristown to the New York border. It begins at CR 510 and runs northeast along Whippany Road to Whippany, where it turns onto Parsippany Road, which runs north for a few miles to Parsippany, where CR 511 meets US 202. The two routes are multiplexed along Parsippany Boulevard, Intervale Road, and Washington Street until Boonton, where they split. CR 511 runs west along Main Street for a few blocks and then turns north onto Boonton Avenue. In Butler, Boonton Avenue ends. Northbound traffic is routed around a block on the one-way streets Carey Avenue, Robert Street, and High Street before rejoining the southbound lane to form Park Place. After one block, Park Place ends and CR 511 turns east onto Main Street for a little less than half a mile and then north onto Union Avenue. After a couple of miles, Union Avenue ends, and CR 511 turns north onto Ringwood Avenue, which runs north along the east side of the Wanaque Reservoir, changing names to become Greenwood Lake Turnpike and curving to the west toward Greenwood Lake. Greenwood Lake Turnpike ends at Union Valley Road (CR 513). CR 511 turns north onto Lakeside Road, which runs north along the west side of Greenwood Lake to the New York border, where it becomes Jersey Avenue (NY 210). Most of CR 511 is a two-lane undivided road.
CR 511 has an alternate route that follows the section of Ringwood Avenue south of where CR 511 turns onto it, as well as Hamburg Turnpike, Newark Pompton Turnpike, Boulevard, Ryerson Road, and County Road south to Boonton Turnpike (US 202). It is then multiplexed with US 202 east to NJ 23.
---
Copyright © 2003-2021 by David Golub. All rights reserved. The author would like to thank William Roll for contributing photographs and LC for contributing documents to this web site. You may not reproduce any text or photographs on this web site without express permission from the author. Hotlinking of images from this site is strictly prohibited. Route symbols based on graphics from Central PA/MD Roads and Wikipedia. Map icons by MapGlyphs.com.