Solomons Island Road, Governor Ritchie Highway, Potee Street, Hanover Street, West Montgomery Street, Light Street, Calvert Street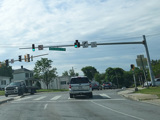 Potee Street ends at a traffic light. Continue straight ahead onto Governor Ritchie Highway to stay on MD 2. Belle Grove Road (MD 170) begins on the right. There is no route signage at this intersection.
Photo taken May 2023.
Governor Ritchie Highway runs south as a four-lane divided road with a grass median.
Photos taken May 2023.
---