Solomons Island Road, Governor Ritchie Highway, Potee Street, Hanover Street, West Montgomery Street, Light Street, Calvert Street
Governor Ritchie Highway runs north as a four-lane divided road with a grass median.
Photos taken May 2023.
Governor Ritchie Highway ends at a traffic light. Bear left onto Potee Street to stay on MD 2. Make a hard left for Belle Grove Road (MD 170), which begins here. There is no route signage.
Photos taken May 2023.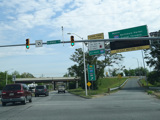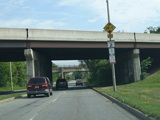 MD 2 splits into a pair of parallel one-way streets. Northbound traffic follows Hanover Street, while southbound traffic follows Potee Street.
Photos taken May 2023.
The northbound and southbound sides merge back together and are known as Hanover Street. The Vietnam Veterans Memorial Bridge carries MD 2 over the Middle Branch of the Patapsco River.
Photos taken May 2023.
---