Mill Plain Road, Lake Avenue Extension, Newtown Road, Stony Hill Road, Mount Pleasant Road, Main Street, Church Hill Road, Main Street North, Main Street South, Woodbury Road, Cutler Street, Thomaston Road, Watertown Road, East Main Street, Terryville Avenue, North Street, Farmington Avenue, Scott Swamp Road, Colt Highway, Middle Turnpike West, Center Street, East Center Street, Middle Turnpike East, New Bolton Road, Boston Turnpike, Hop River Road, Willimantic Turnpike, Jonathan Trumbull Highway, Willimantic Road, Boston Post Road, Hampton Road, Hartford Turnpike, Providence Turnpike, Hartford Road, Providence Road, Providence Pike
Welcome to Connecticut and to Danbury! Here, US 6 and US 202 are multiplexed and are known as Mill Plain Road. At first, Mill Plain Road is a four-lane divided road with a grass median. After a short distance, the median ends, and the road narrows down to two lanes.
Photos taken October 2020.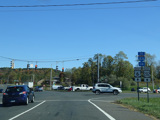 Photo taken October 2020.
Mill Plain Road continues east through Danbury. After a while, it changes name to become Lake Avenue Extension.
Photos taken October 2020.
Photos taken October 2020.
Skipping east to Newtown, Church Hill Road runs east as a two-lane undivided road.
Photos taken May 2021.
There is an interchange with
Yankee Expressway (I-84)
. US 6 joins the expressway again as it crosses the Housatonic River to New Haven County.
Photos taken May 2021.
East to Litchfield County
---