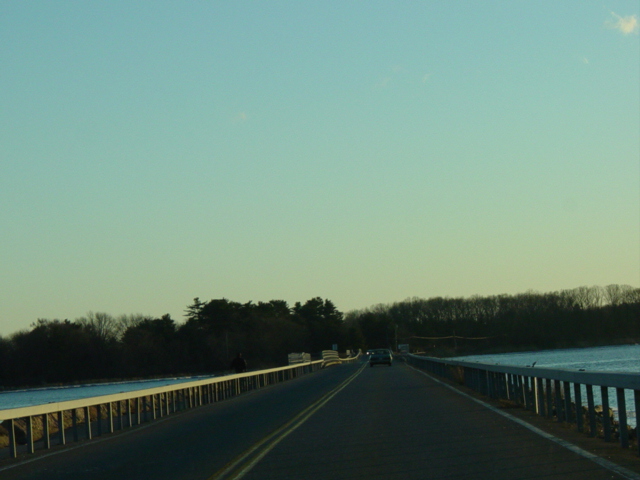 ---
Direction:

North/South

Southern Terminus:

Boston Post Road (US 1) in Old Saybrook

Northern Terminus:

CT 9 in Middletown

Distance:

28.24 miles

Counties:

Middlesex

Signed:

Yes
CT 154 has two distinct sections. The first is a loop to the south of US 1 in Old Saybrook. This section has a number of different names. The majority of it is designated as a scenic route, which is very much deserved. There are numerous breathtaking views of Long Island Sound along this section, as well as a causeway over South Cove. While the entirety of CT 154 is officially a north/south route, this section is signed as an east/west route, and many of the signs along this section give only the route number without a compass direction. This avoids confusion that could result due to the section's semicircular route.
Between the two sections CT 154 is multiplexed with US 1 along Boston Post Road. The second section begins at Boston Post Road (US 1) in Old Saybrook. It is a north/south route called Middlesex Turnpike and Saybrook Road that runs near the Connecticut River, parallel to the CT 9 expressway. It ends at an interchange with CT 9 in Middletown.
---
Copyright © 2003-2022 by David Golub. All rights reserved. The author would like to thank William Roll for contributing photographs and LC for contributing documents to this web site. You may not reproduce any text or photographs on this web site without express permission from the author. Hotlinking of images from this site is strictly prohibited. Route symbols based on graphics from Central PA/MD Roads and Wikipedia. Map icons by MapGlyphs.com.