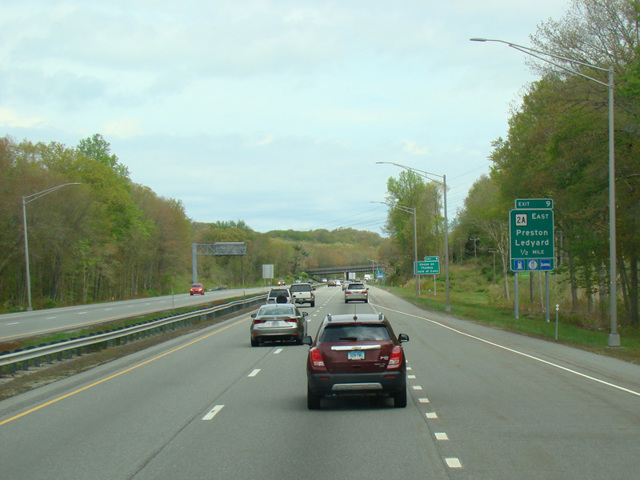 ---
Direction:

North/South

Southern Terminus:

Connecticut Turnpike (I-95) in East Lyme

Northern Terminus:

Connecticut-Massachusetts state line

Distance:

54.69 miles

Counties:

New London, Windham

Signed:

Yes
A few miles east of the Connecticut River, the Connecticut Turnpike leaves I-95 and runs north as I-395, while I-95 continues east toward Rhode Island. At exit 35 in Killingly, the Connecticut Turnpike splits off from I-395 to run east to US 6 at the Rhode Island border as the unsigned SR 695. I-395 continues north into Massachusetts.
Originally I-395 used an exit numbering scheme that continued the numbers from I-95, since both are considered to be part of the Connecticut Turnpike. It had the only three-digit exit numbers in the state. The exits have since been renumbered based on a milepost system, making it one of the few roads in the state to use such a system at this point.
---
Copyright © 2003-2022 by David Golub. All rights reserved. The author would like to thank William Roll for contributing photographs and LC for contributing documents to this web site. You may not reproduce any text or photographs on this web site without express permission from the author. Hotlinking of images from this site is strictly prohibited. Route symbols based on graphics from Central PA/MD Roads and Wikipedia. Map icons by MapGlyphs.com.