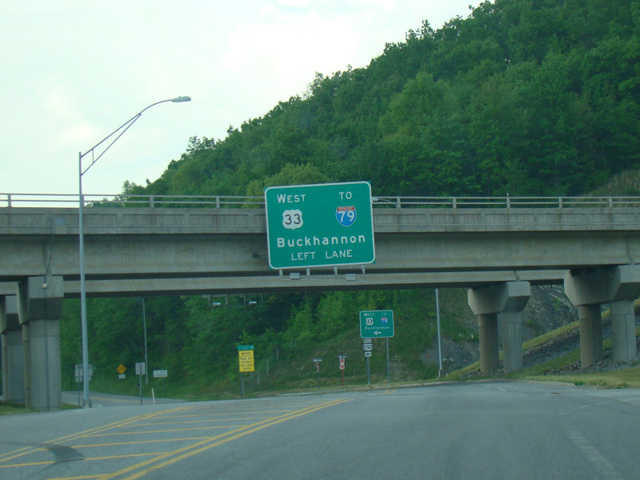 ---
Direction:

North/South

Southern Terminus:

Virginia-West Virginia state line

Northern Terminus:

I-70 in Wheeling

Counties:

Pocahontas, Randolph, Barbour, Taylor, Marion, Wetzel, Marshall, Ohio

Signed:

Yes
US 250 is a north/south route that runs diagonally from Richmond, Virginia, to Wheeling, West Virginia. It enters West Virginia from Virginia near at the crest of the Appalachian Mountains and runs northwest to Bartow, where it merges with WV 92. The two routes run multiplexed northwest to Huttonsville, where they join US 219/WV 55 along Seneca Trail, which runs north to Elkins. There, WV 55 splits off to join US 33 to the east, while westbound US 33 joins US 219/US 250/WV 55 along Seneca Trail, which ends after about half a mile. WV 92 splits off onto Harrison Avenue, while US 33/US 219/US 250 turns onto North Randolph Avenue, which runs north for about a mile to the western section of Corridor H.
Corridor H changes number at its interchange with North Randolph Avenue. It is designated US 33 to the west and US 219 to the east. US 250 remains multiplexed with US 33 for a few miles along Corridor H to the west before splitting off, multiplexed with WV 92 again, to run north along Junior-Philippi-Grafton Road to Belington. There, WV 92 splits off to the northeast onto Morgantown Pike, while US 250 runs northwest to Philippi, where it joins US 119. The two routes are multiplexed until about a mile north of Webster, where it splits off to the northwest onto Trap Springs Road, which it follows to US 50. There is a short US 50/US 250 multiplex for about a mile to the west, and then northwest. It extends all the way into the panhandle of West Virginia between Pennsylvania and Ohio, where it ends at I-70 in Wheeling.
---
Copyright © 2003-2022 by David Golub. All rights reserved. The author would like to thank William Roll for contributing photographs and LC for contributing documents to this web site. You may not reproduce any text or photographs on this web site without express permission from the author. Hotlinking of images from this site is strictly prohibited. Route symbols based on graphics from Central PA/MD Roads and Wikipedia. Map icons by MapGlyphs.com.