Stuarts Draft Highway, Rosser Avenue, Main Street, Delphine Avenue, East Side Highway, Stuart Avenue, South Third Street, Fourth Street, North Fifth Street, Lee Highway, Stonewall Jackson Highway, South Royal Avenue, North Royal Avenue, West 14th Street, North Shenandoah Avenue, Winchester Road, Lord Fairfax Highway, Buckmarsh Street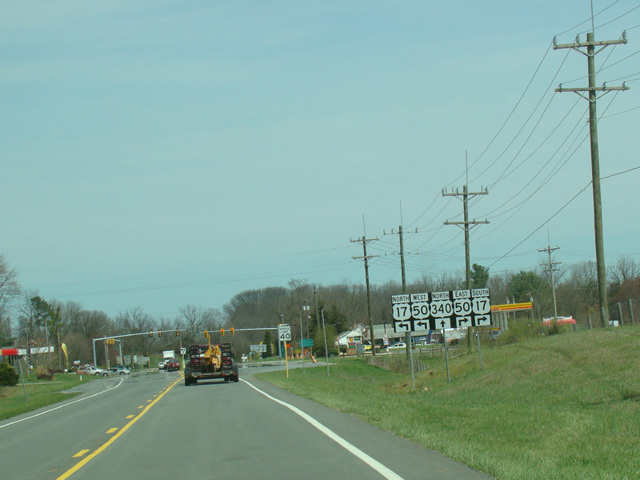 ---
Direction:

North/South

Southern Terminus:

Lee Highway (US 11) in Greenville

Northern Terminus:

Virginia-West Virginia state line

Distance:

122.01 miles

Counties:

Augusta, Rockingham, Page, Warren, Frederick, Clarke

Signed:

Yes
US 340 is a north/south route extending from Greenville, Virginia, to Frederick, Maryland. It begins at Lee Highway (US 11) and runs northeast as Stuarts Draft Highway through Stuarts Draft to Waynesboro. There, it changes names to become Rosser Avenue, which ends at Main Street (US 250). The two routes are multiplexed for a short distance, and then US 340 turns north onto Delphine Avenue.
Heading out of town, Delphine Avenue becomes East Side Highway. It takes on a number of local names in the various towns through which it passes. Eventually, East Side Highway ends at Lee Highway (US 211). US 340 is multiplexed with US 211 for a few miles to the east until Luray, where it splits off to the north again, becoming Stonewall Jackson Highway. Eventually it reaches Front Royal, where it becomes South Royal Avenue and North Royal Avenue before merging with US 522. The two routes are multiplexed for about ten miles, and then US 340 splits off to become Lord Fairfax Highway, which runs northeast to the border with West Virginia.
There is a second section in Loudoun County where US 340 re-enters Virginia from West Virginia for about half a mile before crossing the Potomac River to Maryland. The two sections of US 340 in Virginia are connected by the section in West Virginia.
---