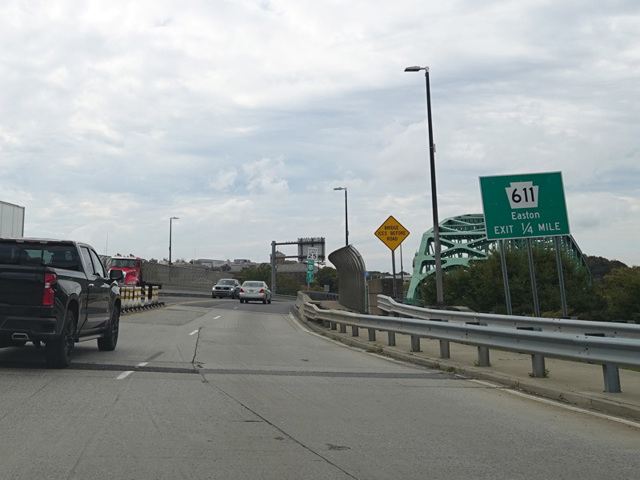 ---
Direction:

East/West

Western Terminus:

West Virginia-Pennsylvania state line

Eastern Terminus:

New Jersey-Pennsylvania state line

Counties:

Washington, Allegheny, Westmoreland, Indiana, Blair, Huntingdon, Mifflin, Juniata, Perry, Dauphin, Lebanon, Berks, Lehigh, Northampton

Signed:

Yes
US 22 is an east/west route extending from Cincinnati, Ohio, to Newark, New Jersey. It enters Pennsylvania from West Virginia as an expressway, which ends at I-376. US 22 is multiplexed with I-376 through the Pittsburgh area and then splits off at exit 85, just before I-376 ends at the Pennsylvania Turnpike (I-76). US 22 is then a surface road until Ebensburg, where it becomes an expressway again.
The expressway ends at I-99/US 220 in Duncansville. US 22 splits off from the expressway at its last interchange before it ends. It becomes a surface road again. After some distance, it multiplexes with US 522. In Lewistown, US 22/US 522 joins US 322, which is an expressway. US 522 splits off after one exit, and US 22/US 322 continues southeast as an expressway. It follows the Juniata River to Duncannon, where it empties into the Susquehanna River. There is a bridge over the Susquehanna River, and then US 22/US 322 follows the river on the other side to Harrisburg. There, the expressway ends and then two routes split at an interchange with I-81. US 22 follows Cameron Street, Arsenal Boulevard, Herr Street, and Walnut Street through Harrisburg.
Heading out of town, Walnut Street changes names to become Jonestown Road and then Allentown Boulevard. In Fredericksburg, US 22 merges with I-78 and follows it to Allentown, just west of the Northeast Extension of the Pennsylvania Turnpike (I-476). There, US 22 splits off to become an expressway called the Lehigh Valley Thruway, which runs parallel to and north of I-78 to the border with New Jersey.
---
Copyright © 2003-2021 by David Golub. All rights reserved. The author would like to thank William Roll for contributing photographs and LC for contributing documents to this web site. You may not reproduce any text or photographs on this web site without express permission from the author. Hotlinking of images from this site is strictly prohibited. Route symbols based on graphics from Central PA/MD Roads and Wikipedia. Map icons by MapGlyphs.com.