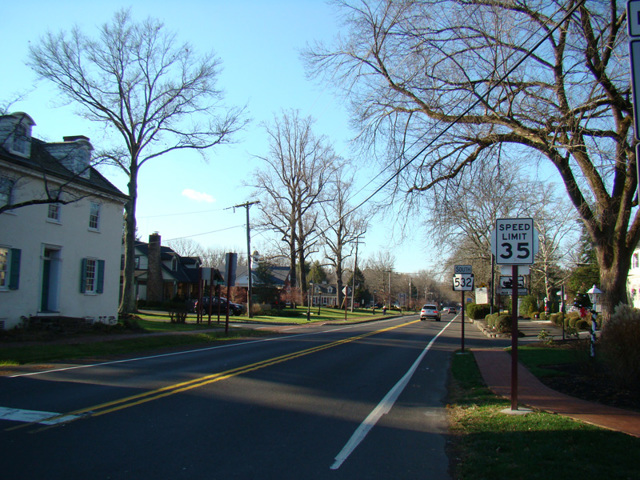 ---
Direction:

North/South

Southern Terminus:

Roosevelt Boulevard (US 1) in Philadelphia

Northern Terminus:

River Road (PA 32) in Washington Crossing

Distance:

17.68 miles

Counties:

Philadelphia, Bucks

Signed:

Yes
PA 532 is a north/south route in Philadelphia and its suburbs. Welsh Road begins at Frankford Road (US 13) in Philadelphia and runs north as a local street to Roosevelt Boulevard (US 1), where it takes on the PA 523 designation. It runs northwest for about half a mile and then turns north onto Bustleton Avenue, which it follows out of Philadelphia, changing names to become Bustleton Pike at the city line.
Bustleton Pike crosses the Pennsylvania Turnpike (I-276), although there is no interchange. A few blocks north of the turnpike, Bustleton Pike splits off to become a local street. PA 532 is known as Bridgetown Pike for two blocks and then turns north onto Buck Road, while Bridgetown Pike continues to the northeast as PA 213. In Newtown, Buck Road ends at Newtown Bypass, a semicircular road around the center of the town. PA 532 follows Newtown Bypass, multiplexed for much of the way with PA 332 and PA 413. At the end of Newtown Bypass, PA 523 turns north again onto Washington Crossing Road, which it follows to Washington Crossing. There, it ends at River Road (PA 532) across from the Washington Crossing Bridge.
---
Copyright © 2003-2021 by David Golub. All rights reserved. The author would like to thank William Roll for contributing photographs and LC for contributing documents to this web site. You may not reproduce any text or photographs on this web site without express permission from the author. Hotlinking of images from this site is strictly prohibited. Route symbols based on graphics from Central PA/MD Roads and Wikipedia. Map icons by MapGlyphs.com.