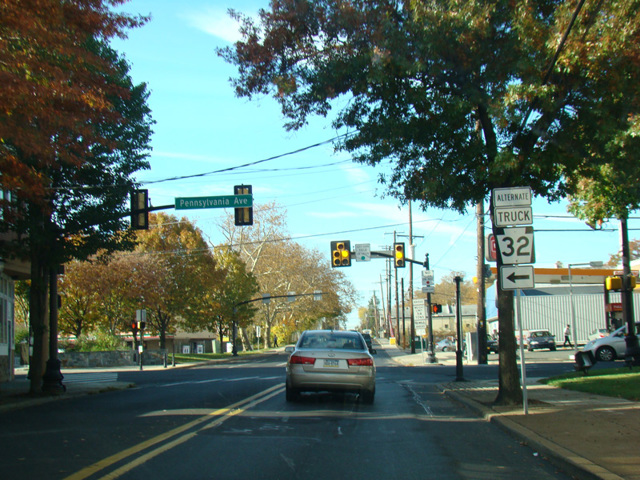 ---
Direction:

North/South

Southern Terminus:

US 1 in Morrisville

Northern Terminus:

Easton Road (PA 611) in Kintnersville

Distance:

40.56 miles

Counties:

Bucks

Signed:

Yes
PA 32 is a north/south route along the Delaware River from Morrisville to Kintnersville. For most of its length, it is known as River Road. Near the southern terminus in Morrisville, River Road turns into Delmorr Avenue, and then PA 32 turns west onto Bridge Street, which merges into US 1 after about half a mile. The entire length is a two-lane undivided road.
PA 32 has two alternate truck routes that provides alternatives to bridges with weight limits. The first begins at the southern terminus and follows US 1 and Pennsylvania Avenue to Bridge Street, one block away from Delmorr Avenue. The second begins in Point Pleasant and follows Point Pleasant Pike, Durham Road (PA 413), and Easton Road (PA 611) to the northern terminus.
---
Copyright © 2003-2021 by David Golub. All rights reserved. The author would like to thank William Roll for contributing photographs and LC for contributing documents to this web site. You may not reproduce any text or photographs on this web site without express permission from the author. Hotlinking of images from this site is strictly prohibited. Route symbols based on graphics from Central PA/MD Roads and Wikipedia. Map icons by MapGlyphs.com.