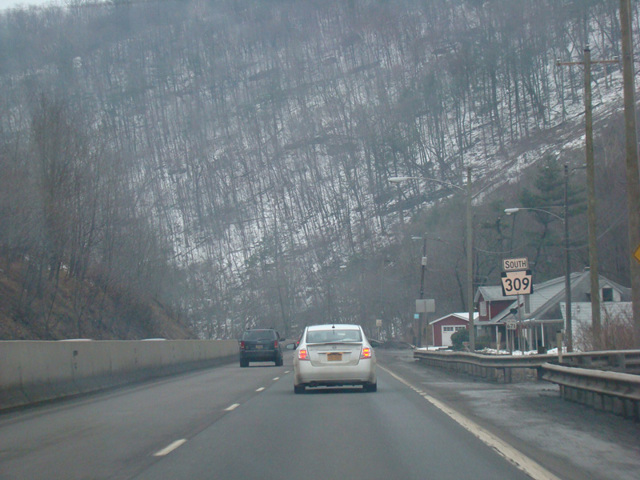 ---
Direction:

North/South

Southern Terminus:

Old York Road (PA 611) in Philadelphia

Northern Terminus:

PA 29 in Tunkhannock

Distance:

125.00 miles

Counties:

Philadelphia, Montgomery, Bucks, Lehigh, Schuylkill, Carbon, Luzerne, Wyoming

Signed:

Yes
PA 309 is a north/south route extending from Philadelphia to Tunkhannock. It begins at Old York Road (PA 611) at the northern end of Philadelphia and runs northwest as Cheltenham Avenue along the city line. After a couple of miles, it becomes the Fort Washington Expressway, which runs north through Fort Washington, crossing and having an interchange with the Pennsylvania Turnpike (I-276). After a few miles, the expressway ends. PA 309 continues north, running parallel to and a few miles east of the Northeast Extension of the Pennsylvania Turnpike (I-476).
South of Allentown, PA 309 joins I-78 and is multiplexed with it for a few exits. It then splits off and runs north as an expressway through Allentown between I-78 and the Lehigh Valley Thruway (US 22). The expressway ends just north of US 22. PA 309 runs northwest to Hazleton and then north to Ashley, where it joins I-81. The two routes are multiplexed for a few exits, and then PA 309 splits off to the west as the North Cross Valley Expressway, a short expressway that extends across the Susquehanna River to Forty Fort and ends shortly thereafter. PA 309 follows Memorial Highway and Tunkhannock Highway north to Tunkhannock, where it ends at PA 29.
---
Copyright © 2003-2021 by David Golub. All rights reserved. The author would like to thank William Roll for contributing photographs and LC for contributing documents to this web site. You may not reproduce any text or photographs on this web site without express permission from the author. Hotlinking of images from this site is strictly prohibited. Route symbols based on graphics from Central PA/MD Roads and Wikipedia. Map icons by MapGlyphs.com.