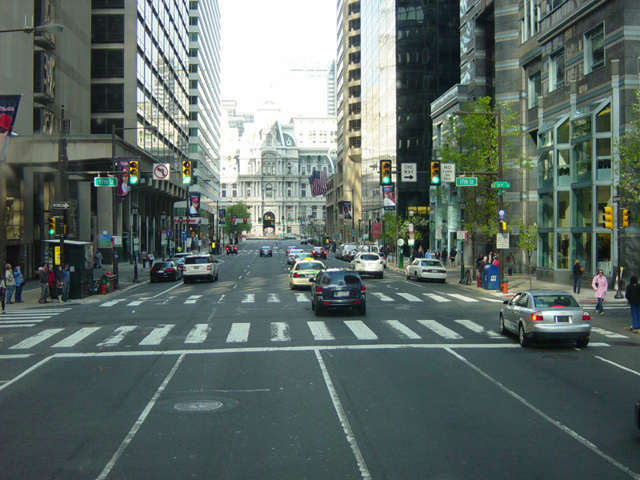 ---
Direction:

East/West

Western Terminus:

High Street (Business US 322) in West Chester

Eastern Terminus:

15th Street (PA 611) in Philadelphia

Distance:

16.54 miles

Counties:

Delaware, Philadelphia

Signed:

Yes
PA 3 is an east/west route connecting Philadelphia to the surrounding suburbs. It begins at High Street (Business US 322) in West Chester. It is routed through West Chester along a pair of parallel one-way streets. Eastbound traffic follows East Market Street, while westbound traffic follows East Gay Street. After a short distance, the two streets come together to form West Chester Pike, a four-lane divided road extending from West Chester to Philadelphia. Shortly before crossing the city line, the divider ends and West Chester Pike changes names to become Market Street.
In Philadelphia, PA 3 leaves Market Street and turns south onto South 63rd Street. After a couple of blocks it turns east again. Eastbound traffic is routed along Chestnut Street, while westbound traffic is routed along Walnut Street. After a couple of miles, PA 3 turns north for a couple of blocks again, multiplexed with US 13 along South 38th Street, and turns returns to Market Street. East of the Schuylkill River, Market Street becomes an eastbound one-way street. Westbound traffic is routed along John F. Kennedy Boulevard in this area. PA 3 ends at 15th Street (PA 611) by City Hall.
---
Copyright © 2003-2021 by David Golub. All rights reserved. The author would like to thank William Roll for contributing photographs and LC for contributing documents to this web site. You may not reproduce any text or photographs on this web site without express permission from the author. Hotlinking of images from this site is strictly prohibited. Route symbols based on graphics from Central PA/MD Roads and Wikipedia. Map icons by MapGlyphs.com.