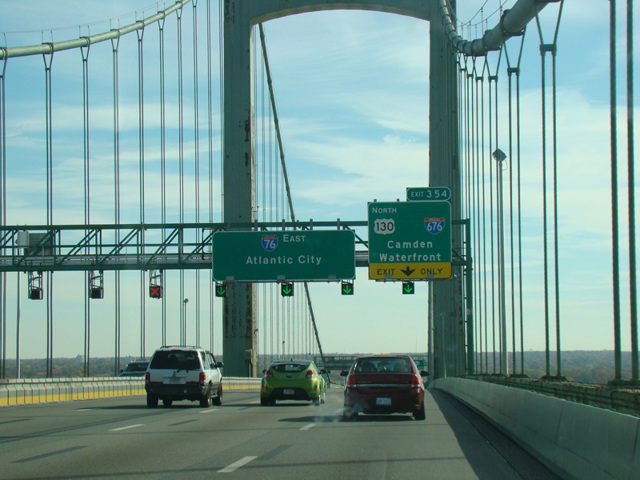 ---
Direction:

East/West

Western Terminus:

Ohio-Pennsylvania state line

Eastern Terminus:

Pennsylvania-New Jersey state line

Counties:

Lawrence, Beaver, Butler, Allegheny, Westmoreland, Bedford, Fulton, Huntingdon, Franklin, Cumberland, York, Dauphin, Lebanon, Lancaster, Berks, Chester, Montgomery, Philadelphia

Signed:

Yes
I-76 is a major east/west highway crossing Pennsylvania from Ohio to New Jersey. For most of its length, it follows the Pennsylvania Turnpike, the state's main toll highway. It enters the state from Ohio a few miles southeast of Youngstown and runs southeast, passing near Pittsburgh without going through the city. To the southeast of Pittsburgh, the turnpike merges with I-70, and the two interstates run east multiplexed. In Breezewood, they split at an infamous interchange where motorists following I-70 must pass through traffic lights on US 30 to get to the section east of here from the turnpike.
I-76 continues to follow the turnpike, passing through Harrisburg and eventually reaching King of Prussia in the suburbs of Philadelphia. There, I-76 leaves the turnpike, which continues east toward New Jersey as I-276. I-76 continues southeast to Philadelphia as a free highway called the Schuylkill Expressway, which as its name suggests, runs along the Schuylkill River. It ends at the Walt Whitman Bridge, a suspension bridge over the Delaware River to Camden, New Jersey.
---
Copyright © 2003-2022 by David Golub. All rights reserved. The author would like to thank William Roll for contributing photographs and LC for contributing documents to this web site. You may not reproduce any text or photographs on this web site without express permission from the author. Hotlinking of images from this site is strictly prohibited. Route symbols based on graphics from Central PA/MD Roads and Wikipedia. Map icons by MapGlyphs.com.