Farragut Avenue
Farragut Avenue begins at
Broadway (US 9)
in Hastings-on-Hudson and runs southeast. There is a stop sign at Olinda Avenue.
Photos taken May 2014.
Farragut Avenue runs southeast through Hastings-on-Hudson as a two-lane undivided road.
Photos taken May 2014.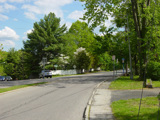 The median ends here, as does CR 151. Farragut Avenue splits off to the left to become a local street. The
Farragut Parkway
is straight ahead.
Photo taken May 2014.
---