Old Neck Road, Wilcox Avenue
Eastbound Truck Route Views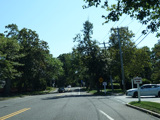 Old Neck Road begins at Montauk Highway (CR 80) in Center Moriches. There is a grade crossing at the Montauk Branch of the Long Island Rail Road. Immediately after the track, turn left onto Wilcox Avenue to stay on the truck route.
Photo taken September 2021.
Wilcox Avenue ends at a stop sign at Montauk Highway (CR 80). Merge in straight ahead to continue east.
Photos taken September 2021.
---