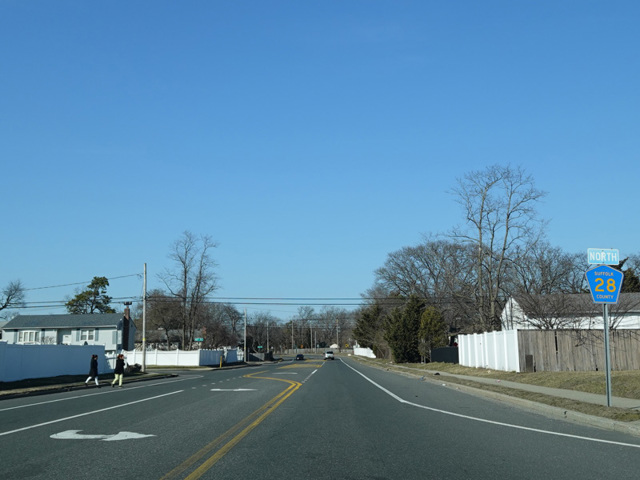 ---
Direction:

North/South

Southern Terminus:

Sunrise Highway (NY 27) in Copiague

Northern Terminus:

Southern Parkway in Lindenhurst

Distance:

1.90 miles

Signed:

Yes
New Highway is a north/south route in the Town of Babylon. It begins at Sunrise Highway (NY 27) in Copiague and runs north to NY 109 in Lindenhurst. Just north of NY 109, there is an interchange with the Southern Parkway, at which New Highway loses the CR 28 designation and becomes a town road.
CR 28 was originally proposed to extend further north along New Highway to the town line, where it becomes Republic Road. It would have ended at Ruland Road, which was proposed to be CR 5. However, the portion north of the parkway interchange was never taken over by the county. In 2010, the Town of Huntington successfully sued Suffolk County in order to force the county to take over the maintenance of Republic Road within the town against its will. Following this lawsuit, Republic Road in the Town of Huntington is listed as CR 28 in state documents but not on the county's web site. The portion of New Highway between the parkway interchange and the town line where it becomes Republic Road remains unambiguously a town road.
---
Copyright © 2003-2020 by David Golub. All rights reserved. The author would like to thank William Roll for contributing photographs and LC for contributing documents to this web site. You may not reproduce any text or photographs on this web site without express permission from the author. Hotlinking of images from this site is strictly prohibited. Route symbols based on graphics from Central PA/MD Roads and Wikipedia. Map icons by MapGlyphs.com.