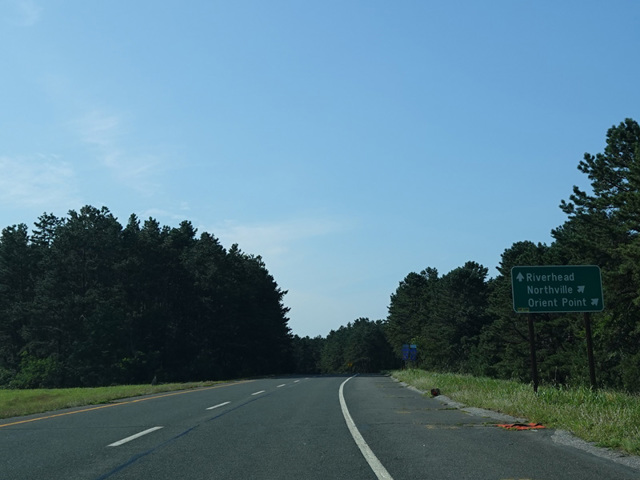 ---
Direction:

North/South

Southern Terminus:

Montauk Highway (CR 80) in Quogue

Northern Terminus:

Nugent Drive (NY 24/CR 94), Flanders Road (NY 24), Lake Avenue (CR 63), and Peconic Avenue (CR 63) in Riverhead

Distance:

7.45 miles

Signed:

Yes
Quogue-Riverhead Road is a north/south route that extends from Quogue to Riverhead, as its name suggests. It begins at Montauk Highway and runs north to Sunrise Highway (NY 27), where there is an interchange. It then curves to the northwest to meet Old Riverhead Road (CR 31) at a traffic circle at its northern terminus. Leaving the circle, Quogue-Riverhead Road heads north again. Cross River Drive (CR 105) begins at Quogue-Riverhead Road, and then it changes names to become Riverleigh Avenue. It ends just south of the Peconic River at a traffic circle at Nugent Drive (NY 24/CR 94), Flanders Road (NY 24), Old East Moriches-Riverhead Road (CR 63), and Peconic Avenue (CR 63).
Until 1972, Quogue-Riverhead Road was a state route with the designation of NY 113. That designation has since been decommissioned and reassigned to Spackenkill Road in Poughkeepsie.
---
Copyright © 2003-2021 by David Golub. All rights reserved. The author would like to thank William Roll for contributing photographs and LC for contributing documents to this web site. You may not reproduce any text or photographs on this web site without express permission from the author. Hotlinking of images from this site is strictly prohibited. Route symbols based on graphics from Central PA/MD Roads and Wikipedia. Map icons by MapGlyphs.com.