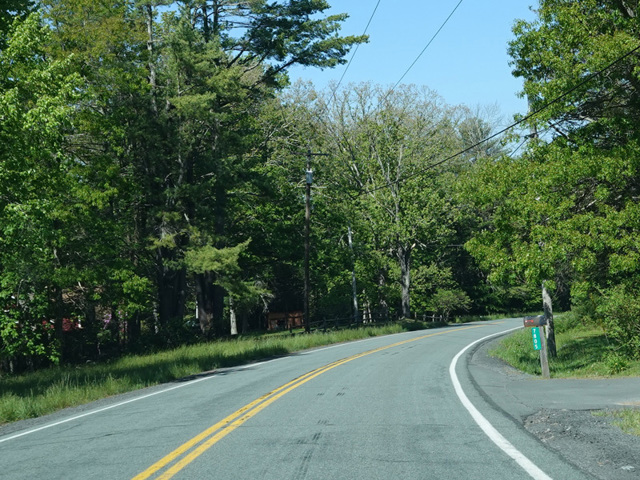 ---
Direction:

East/West

Western Terminus:

PA 652 at the New York-Pennsylvania state line

Eastern Terminus:

Brewster Road (US 6) in Carmel

Distance:

108.10 miles

Counties:

Sullivan, Ulster, Orange, Dutchess, Putnam

Signed:

Yes
NY 52 is a fairly long east/west route through the Catskills and the Hudson Valley. It begins at a bridge over the Delaware River from Pennsylvania. PA 652 becomes NY 52 at the border. The first few blocks are known as Bridge Street. NY 52 is then multiplexed with NY 97 for a couple of blocks as Buddenhagen Road. It then splits off to become Narrowsburg Road. NY 52 runs north and then east to Liberty, where it is multiplexed with NY 55 for one blocks and then has an interchange with the Quickway (NY 17/Future I-86). It continues east to Ellenville and then southeast toward Newburgh. It passes under the New York Thruway (I-87), but there is no exit. In Newburgh, it joins I-84. The two routes are multiplexed for a few exits across the Newburgh-Beacon Bridge. In Fishkill, the two routes split. NY 52 runs near I-84 for the rest of its length, ending at US 6 in Carmel.
There is a business route in Beacon and Fishkill, providing an alternative along the local streets where NY 52 is multiplexed with I-84. It begins at exit 11 and runs south along NY 9D for about half a mile, then east along Main Street and Fishkill Avenue to exit 12, where NY 52 splits off from I-84.
---
Copyright © 2003-2022 by David Golub. All rights reserved. The author would like to thank William Roll for contributing photographs and LC for contributing documents to this web site. You may not reproduce any text or photographs on this web site without express permission from the author. Hotlinking of images from this site is strictly prohibited. Route symbols based on graphics from Central PA/MD Roads and Wikipedia. Map icons by MapGlyphs.com.