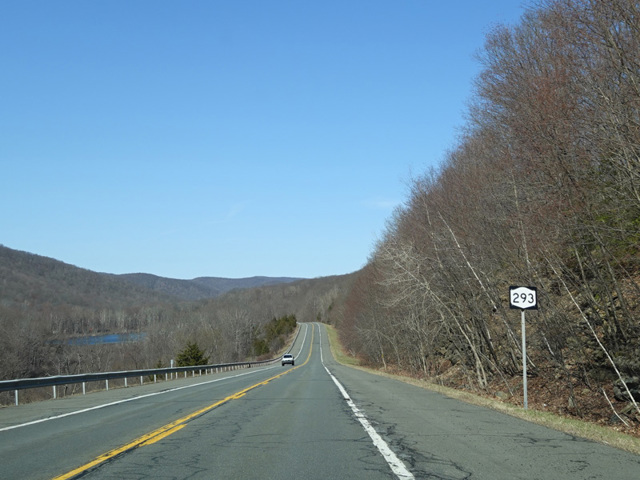 ---
Direction:

North/South

Southern Terminus:

Long Mountain Parkway (US 6) in Harriman State Park

Northern Terminus:

US 9W and Storm King Highway (NY 218) in West Point

Distance:

6.85 miles

Counties:

Orange

Signed:

Yes
NY 293 is a diagonal route providing access to West Point from the southwest. It splits off from the Long Mountain Parkway (US 6) in Harriman State Park and runs northeast for several miles to the point where the Storm King Highway (NY 218) splits off from US 9W, where it ends. The entire length is a two-lane undivided road.
US 6 follows the northernmost section of the Palisades Parkway approaching the Bear Mountain Bridge. As is the case with most parkways, trucks are prohibited. Therefore, US 6 has a truck route along the entire length of NY 293 and then along US 9W south to the bridge.
---
Copyright © 2003-2021 by David Golub. All rights reserved. The author would like to thank William Roll for contributing photographs and LC for contributing documents to this web site. You may not reproduce any text or photographs on this web site without express permission from the author. Hotlinking of images from this site is strictly prohibited. Route symbols based on graphics from Central PA/MD Roads and Wikipedia. Map icons by MapGlyphs.com.