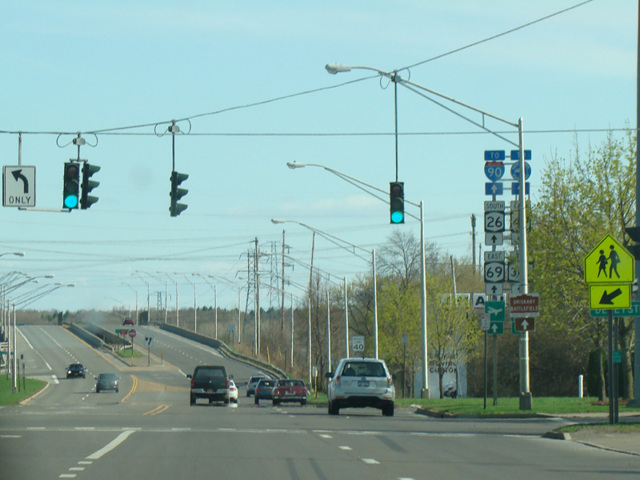 ---
Direction:

North/South

Southern Terminus:

PA 267 at the Pennsylvania-New York state line

Northern Terminus:

NY 12 in Alexandria Bay

Distance:

203.84 miles

Counties:

Broome, Cortland, Chenango, Madison, Oneida, Lewis, Jefferson

Signed:

Yes
NY 26 is a major north/south route running the full height of the state from the Pennsylvania line in the suburbs of Binghamton all the way to Alexandria Bay on the St. Lawrence River. PA 267 becomes NY 26 when it crosses the state line. NY 26 runs north for a few miles to Vestal, where it becomes a short expressway that crosses the Susquehanna River to Endicott. There, the expressway ends at East Main Street (NY 17C). NY 26 is multiplexed with NY 17C west for about half a mile and then splits off to the north. It runs north, curving slightly to the northeast, to Whitney Point, where it crosses and has a partial interchange with I-81. It continues northeast to Pine Woods, where it joins US 20 for a couple of miles. NY 12B joins US 20 along this stretch. When the two routes split, NY 26 follows NY 12B for a little over a mile to Oriskany Falls, where it splits off.
In Rome, NY 26 turns east and is multiplexed with NY 365 along Rome Oneida Road. After about a mile, it turns north along Erie Boulevard East (NY 49/NY 69) and Black River Boulevard (NY 46). It then turns east onto East Bloomfield Street, which after a few blocks curves to the northwest to become Turin Street. From Rome, it runs north to Fort Drum and then joins US 11 in Evans Mills. It is multiplexed with US 11 northeast for a few miles to Philadelphia and then splits off to the northwest. It ends at NY 12 in Alexandria Bay on the St. Lawrence River.
---
Copyright © 2003-2022 by David Golub. All rights reserved. The author would like to thank William Roll for contributing photographs and LC for contributing documents to this web site. You may not reproduce any text or photographs on this web site without express permission from the author. Hotlinking of images from this site is strictly prohibited. Route symbols based on graphics from Central PA/MD Roads and Wikipedia. Map icons by MapGlyphs.com.