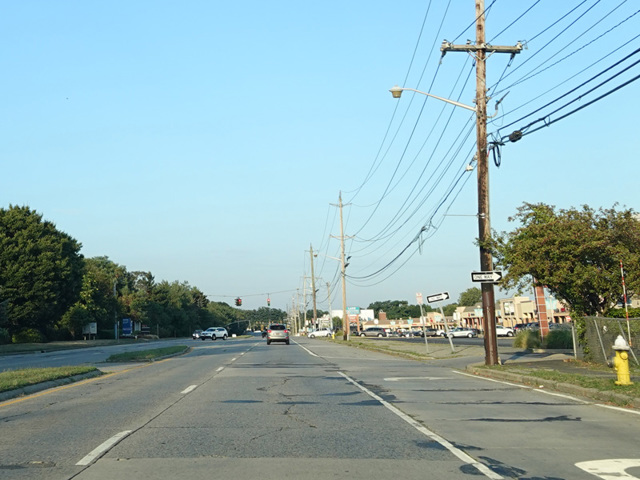 ---
Direction:

East/West

Western Terminus:

Lakeville Road (CR 11) at the Queens-Nassau county line

Eastern Terminus:

Marcus Avenue and New Hyde Park Road (CR 5B) in New Hyde Park

Distance:

0.81 miles

Counties:

Nassau

Signed:

Yes
Union Turnpike is a major street in Queens, extending from Myrtle Avenue to the Queens-Nassau county line. It extends a short distance into Nassau as a state highway. It is listed in state documents with a reference route number of 900F, but it has NY 25C reference markers and a single NY 25C route shield at each end. It begins at Lakeville Road (CR 11) at the county line and ends at New Hyde Park Road (CR 5B), where it becomes Marcus Avenue. NY 25C is less than a mile long. The entire length is a four-lane divided road with traffic lights.
Many years ago, NY 25C used to exist as a signed route. At that time, NY 25 followed a different alignment in Queens. It left Queens Boulevard at Union Turnpike and ran east on Union Turnpike to Springfield Boulevard. It then cut south on Springfield Boulevard to Braddock Avenue. NY 25C began at Springfield Boulevard and ran east along Union Turnpike and Marcus Avenue to end at Jericho Turnpike (NY 25) in Garden City Park. In 1970, NY 25 was realigned along Hillside Avenue. The portion of NY 25C in Queens was decommissioned, as was the portion along Marcus Avenue. From 1970 until 2013, the NY 25C designation was unsigned and only posted on reference markers. Then, in 2013, it was brought back from the dead with the installation of a single route shield at each end.
---
Copyright © 2003-2021 by David Golub. All rights reserved. The author would like to thank William Roll for contributing photographs and LC for contributing documents to this web site. You may not reproduce any text or photographs on this web site without express permission from the author. Hotlinking of images from this site is strictly prohibited. Route symbols based on graphics from Central PA/MD Roads and Wikipedia. Map icons by MapGlyphs.com.