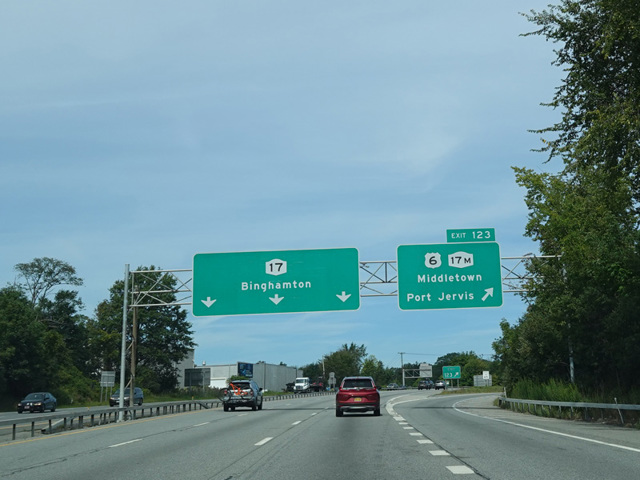 ---
Direction:

East/West along the Southern Tier Expressway and Quickway, North/South along Averell Avenue and Orange Turnpike

Western Terminus:

New York-Pennsylvania state line

Southern Terminus:

New York-New Jersey state line

Distance:

394.71 miles

Counties:

Chautauqua, Cattaraugus, Allegany, Steuben, Chemung, Tioga, Broome, Delaware, Sullivan, Orange, Rockland

Signed:

Yes
NY 17 is a major highway in Upstate New York. It enters the state from Pennsylvania and runs east through the Finger Lakes region. This section is known as the Southern Tier Expressway. In Binghamton, the Southern Tier Expressway ends at I-81. NY 17 is multiplexed with I-81 for a few exits. The two routes then split. NY 17 is known as the Quickway from this point on. The Quickway runs southeast through the Catskill Mountains. It ends at the New York Thruway (I-87) in Harriman. One exit before the end of the Quickway, NY 17 splits off from the Quickway and changes from an east/west route to a north/south route. It runs south along Averell Avenue and Orange Turnpike, parallel to the Thruway. Orange Turnpike intersects the Thruway at exit 15A and changes designation to become NY 59. NY 17 continues south as an unnamed two-lane road until the New York-New Jersey state line, where it merges into I-287 and becomes NJ 17. The ramp from the southern terminus of NY 17 to I-287 is one-way. Therefore, motorists travelling north on I-287/NJ 17 from New Jersey who wish to continue north on NY 17 cannot connect directly. Instead, they must take the Thruway north to exit 15A and pick up NY 17 at that point.
Work is currently in progress to upgrade the Southern Tier Expressway and the Quickway to meet interstate standards. When this work is completed, these sections will be assigned the designation of I-86.
---
Copyright © 2003-2022 by David Golub. All rights reserved. The author would like to thank William Roll for contributing photographs and LC for contributing documents to this web site. You may not reproduce any text or photographs on this web site without express permission from the author. Hotlinking of images from this site is strictly prohibited. Route symbols based on graphics from Central PA/MD Roads and Wikipedia. Map icons by MapGlyphs.com.