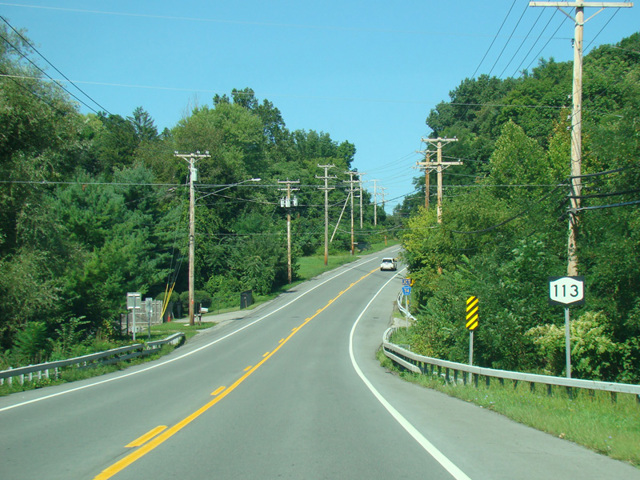 ---
Direction:

East/West

Western Terminus:

South Road (US 9) in Poughkeepsie

Eastern Terminus:

New Hackensack Road (NY 376) and Vassar Road (Dutchess CR 77) in Poughkeepsie

Distance:

3.05 miles

Counties:

Dutchess

Signed:

Yes
Spackenkill Road is an east/west route in Poughkeepsie. It begins at a grade-separated interchange with South Road (US 9) and runs east for a few miles to end at a traffic light at New Hackensack Road (NY 376) and Vassar Road (Dutchess CR 77).
The NY 113 designation for Spackenkill Road is relatively recent. Until 1972, Quogue-Riverhead Road (Suffolk CR 104) on Long Island was designated NY 113. At that time, Spackenkill Road was designated Dutchess CR 76.
---
Copyright © 2003-2022 by David Golub. All rights reserved. The author would like to thank William Roll for contributing photographs and LC for contributing documents to this web site. You may not reproduce any text or photographs on this web site without express permission from the author. Hotlinking of images from this site is strictly prohibited. Route symbols based on graphics from Central PA/MD Roads and Wikipedia. Map icons by MapGlyphs.com.